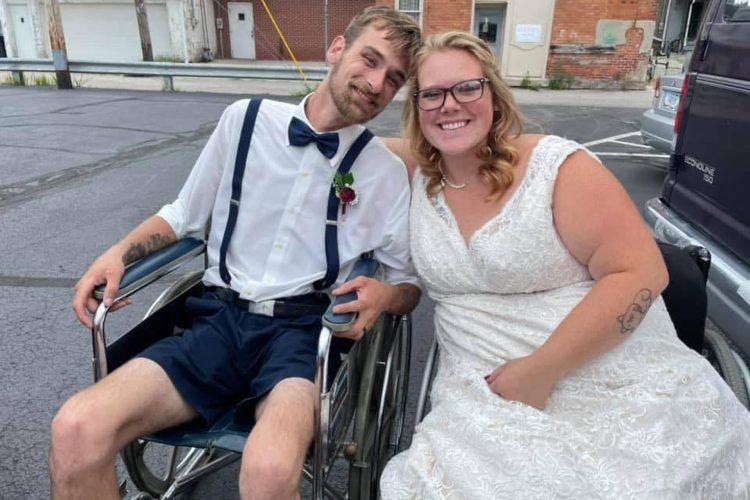 This month, a paralyzed woman defied all the odds. For many years, doctors told her she would never walk or have children again – but she proved them all wrong! Most recently, this paralyzed mom walked down the aisle at her wedding! Read on to discover one of the most inspiring stories of the year…
Paralyzed Mom Defies Odds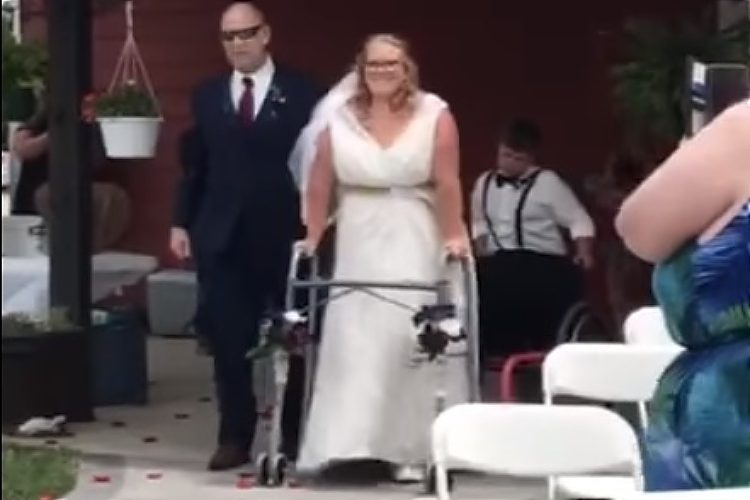 Brittney Bedwell (now Hitchcock), a paralyzed mom from Indiana, always knew that she wanted to walk down the aisle at her wedding. To the young mother, it didn't matter that doctors told her otherwise – she knew she could do it. And, now, Bedwell has proven them all wrong!
Horribly, a terrible ATV accident four years ago left Bedwell paralyzed and in a wheelchair. However, after the accident, Bedwell and her husband-to-be, Glen Hitchcock, never fell out of love. Through the months of hospitalization, countless surgeries, and years of therapy, they always had one another. "A doctor told me that I was never going to walk again, and I didn't want to believe that, and I did for a while and I had depression and anxiety but once I got over that, I just woke up one day and I just like, started feeling some stuff in my legs and I knew that it wasn't over," the mother of two said.
Finally, last week, Bedwell proved them all wrong when she became Brittney Hitchcock. Along with her dad and a walker, Brittney walked down the aisle at the wedding, with all her family watching! "It was really important to me because I got to watch my sisters walk down the aisle with [our dad], and I knew I wanted to do that, so I had to push myself even harder," Brittney explained.
That wasn't the only challenge Brittney Hitchcock overcame…
Walking On Her Wedding Day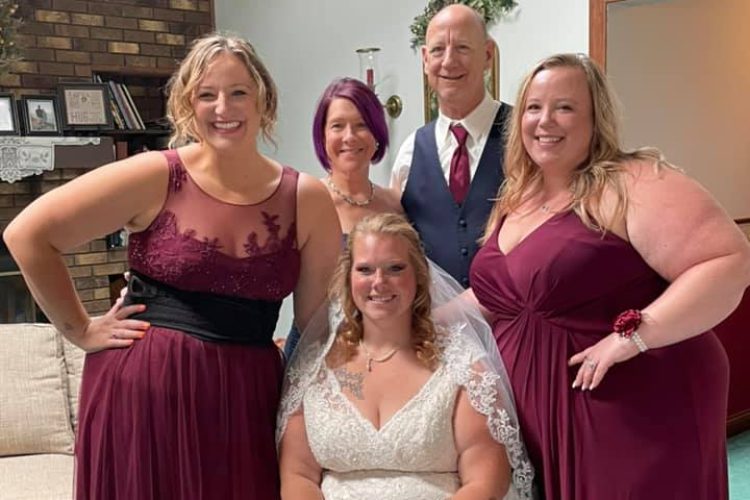 In addition to never walking again, doctors also said she would never have children again. Well, today, the newlywed is four months pregnant! No matter what happens, Brittney knows she always has Glen and her two sons by her side. "I have my kids, I have my husband, and I have my family and friends and they all are in my corner so I'm pushing for them because they're pushing for me," she said.
While it's not known whether or not Brittney will ever leave the wheelchair, she feels hopeful one day she'll walk without help. "I already have therapy lined up for next week, so I'm getting out of this chair."
After the wedding, Britney's sister, Ashley Sieb, posted videos and photos of the wedding online, commemorating Britney's incredible success. "She leaves me speechless. So I'll just say – Brittney Bedwell inspires me to never give up," Sieb wrote. "To believe in miracles. To stay strong."
"To defy the odds. To love deeply and freely. Happy wedding day, baby sister. You are STUNNING and STRONG!" And Brittney never fails to prove that these words are the undeniable truth of her life!
Sources: Country 92.5, People Magazine, Wish TV.